Flower Preservation Prices


All prices shown are for guidance only, it is recommended that you contact 3D Flower Preservation for a more accurate price.

It is FREE WITH NO OBLGATION.

Remember that included in the price is Collection, Preservation, your choice of Mount, Frame Style also Delivery, to any where in Mainland UK.

A deposit of £100 is required to preserve your bouquet. The deposit will also secure your date for preservation.
We only accept a limited number of commissions each week to maintain a high standard of work.

To avoid disappointment, early booking is highly recommended.




The price to preserve a bouquet is dependent on the size and the style of the flowers used.

All prices shown are for guidance only.

Size relates to glass size, not frame size.

Contact 3D Flower Preservation on 01524 426860 / 07815 483232 for a Free No Obligation Quote.

Remember, included in the price, is Collection and return Delivery to anywhere in Mainland UK.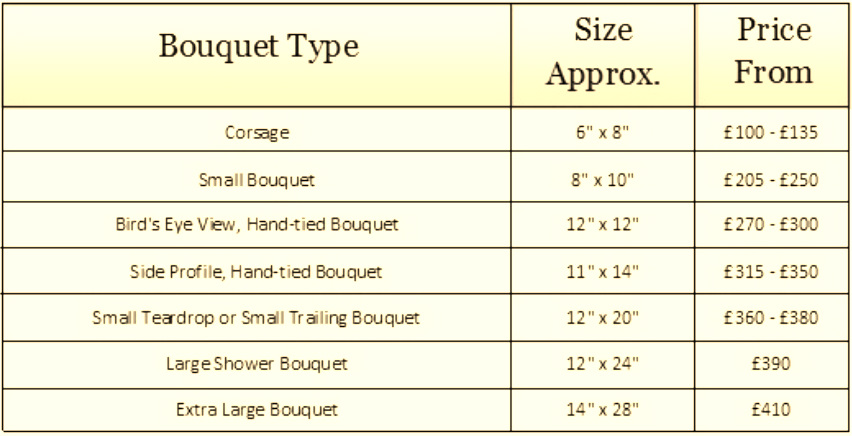 Full payment is required, before any preserved floral keepsake leave 3D Flower Preservation.

Full payment will normally be required 16-20 weeks from start of process.

Due to the fragile nature of very large framed arrangements, we strongly recommend that these be picked up by hand as they are vulnerable to damage.

All prices Quoted are inclusive of Collection, Preservation, Triple Mount, Bespoke Frame and Return Delivery.

No hidden costs.


Optional Extras:
Groom's Buttonhole will be included FREE.

Photograph, Invitation, Order of Service, etc.
will be charged £20 per item.


3D Flower Preservation will also frame your Silk Bouquet, so it can be displayed in the same fashion as a preserved bouquet.

Framing your Silk Bouquet will protect it from dust and general damage.

Your Silk Bouquet will receive the same standard of care.

Silk Bouquets will be approx. 25% cheaper than the prices stated above.

Collection & Delivery will have to be arranged

.